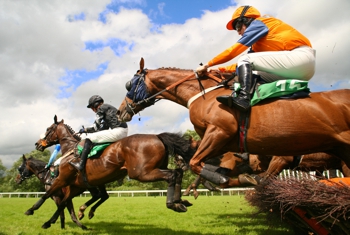 Located just North of the Cheltenham city centre, the Cheltenham Racecourse is located in the picturesque Gloucestershire countryside. If you plan on attending a horseracing event at the Racecourse, there are plenty of great places to stay in and around the racecourse with locations in Cheltenham Town Centre, Charlton Kings, Cleve Hill and further afield. Below is a list of accommodation options in Cheltenham sorted by hotels, bed & breakfasts and apartments and their distances to the Cheltenham Racecourse. We also provide approximate walking times and driving times from each guest house to the racing venue.
We strongly recommend booking your accommodation well in advance of your visit to the Cheltenham Racecourse, as the more popular race days, such as the Cheltenham Festival (which attracts over 200,000 visitors a year) will book up rather quickly!
Getting to the Racecourse
Getting to the racecourse from where you're staying in Cheltenham is easy whether you're an avid walker, prefer driving, getting a cab, taking the train or jumping on a bus. Some hotels, such as the 5-star Ellenborough Park Hotel even provide a complimentary shuttle for their guests to and from the Cheltenham Racecourse on race days. For those staying in the city centre, there are regular buses. Stagecoach service D, for example, runs every 10 minutes during the day and at least once an hour during the evenings. Service 527 also has a regular bus schedule. For local and up-to-date Stagecoach information, you can call 08706 082 608.
During the Cheltenham Festival and the Open, there is an additional shuttle bus service that operates between the Cheltenham Spa Railway Station and outside of the WH Smith's in the centre of Cheltenham to the Racecourse. A single fare starts at £2.50 and a return fair costs £5.
Hotels
With 4 and 5 star luxury hotels, cheaper budget hotels, leisurely spa hotels and chic boutique hotels, visitors to Cheltenham are sure to find a hotel that suits their individual needs. With close proximity to the Racecourse, most Cheltenham hotels are only a short bus or cab ride away if not walking distance.
NB: For hotels at other racecourses, see RacecourseHotels.com.
Bed & Breakfasts
Bed and Breakfasts are a lovely alternative to hotels and Cheltenham has plenty of great options most of which are family run. Including all of the usual amenities that a hotel or an apartment would have, B&Bs also provide hot cooked-to-order breakfasts and some may even include packed lunches. With locations all around Cheltenham, a B&B is a lovely option for your trip to the Racecourse. You may even meet some friends to accompany you to the races!
Apartments
Apartments are a great option if you're visiting Cheltenham in a family group and would like the option to cook meals and feel more at home. Cheltenham have plenty of great apartments for both short and long term stays. With fully equipped kitchens, dining tables and even washing machines, your trip to the Cheltenham Festival can have all the comforts of home.