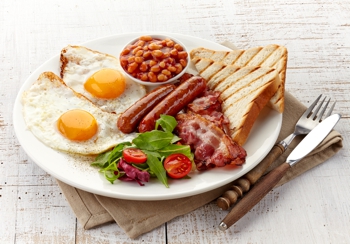 If you're looking for that taste of home and a hearty breakfast to help start out your day right, bed and breakfasts in Cheltenham provide a terrific option. Friendly locals typically operate B&Bs in Cheltenham, opening up their homes to guests visiting the area. These are especially lovely retreats for the individual traveller, as you often get the opportunity to meet other guests over a relaxing breakfast.
True to their name, each bed and breakfast in the Cheltenham area serves up a hot cooked-to-order breakfast, such as the full English, which typically involves eggs, bacon, sausages, mushrooms, tomatoes and sometimes even black pudding. Many of the B&Bs source the ingredients from local vendors, use eggs from their own hens or grow their own fruit and vegetables. Other breakfast items typically include a breakfast buffet with fresh juices, coffee, tea, yoghurts and cereals. And, a few places even make their own bread and marmalade.
133 Hales Rd, Cheltenham, GL52 6ST
Badger Towers is an elegant guesthouse just a 15-minute walk from the town centre of Cheltenham. The house offers six lovely bedrooms with a homely lounge and dining room. Breakfast, of course, is served each morning and includes a full English breakfast cooked to order, as well as homemade marmalade from the owner herself. The quaint B&B also includes a wash and dry laundry service and will send out for dry cleaning if needed.
56 Shurdington Rd, Cheltenham, GL53 0JE
Beaumont House is located in a lovely old Victorian building and offers 16 well presented rooms, varying in style, luxury and theme. Breakfast includes a wide scope of options from a full English to American style pancakes with streaky bacon and maple syrup. The classy B&B also offers an evening room service menu for guests wishing to stay in for the night, as well as a laundry service. Located just one-mile outside of Cheltenham's centre, this luxury B&B is centrally located to all the sights.
Cleeve Hill, Cheltenham, GL52 3PR
Located on Cleve Hill – one of the highest points of the Cotswolds – this stunning bed and breakfast offers lovely views of green pastures and rolling hills. The house includes 10 rooms, one of which even offers the quaint four-poster bed. Breakfast includes a range of options with a proper full English cooked to order, alongside juices, coffee, teas, yoghurts and fresh fruit. Breakfast also comes with a stunning view of the English countryside. The owners can even provide a packed lunch should you venture out along the Cotswold Way walking path and need some sustenance for the day.
Court House Manor, Painswick, GL6 6QE
Court House Manor is a luxury bed and breakfast in the small village of Painswick just outside of Cheltenham. The house is magnificent and is sure to impress any guest approaching its illustrious doors. The inside is just as spectacular with well-designed rooms and modern furnishings. Breakfast includes both a continental buffet, as well as a traditional cooked-to-order English breakfast. This can be enjoyed in a number of rooms, including the library, kitchen, chess room or breakfast room. This luxury B&B also features a family room with a 3D television, an outdoor hot tub, a snooker room and a grand dining room.
Butt's Ln, Woodmancote, Cheltenham, GL52 9QH
Homeland Apartment is located further afield from the centre of Cheltenham near Cleve Hill and Bishop's Cleve. The setting is quite picturesque and green and offers en-suite facilities and modern furnishings. As well as being in a green area, the owners, Nikki & Erik, do everything possible to support Green Tourism. They raise their own chickens, generate much of their own energy, harvest their own fruit and vegetables and even produce much of their own firewood. A full English breakfast is cooked to order each morning and it is sure to include fresh, locally sourced ingredients. *A minimum two-night stay is required.