55 Saint George's Place, Cheltenham, GL50 3LA (
map
)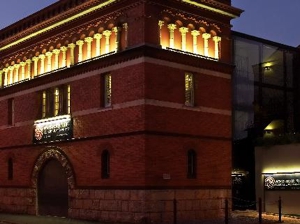 Hotel Facilities
Wi-Fi (Free)
Air Conditioning
Parking (Free/Reservation Required)
The unique Strozzi Palace Suites by Mansley offers Italian style and chic in the heart of Cheltenham. Just a stone's throw from the Wilson Art Gallery and Museum, and surrounded by restaurants, bars and shops, the Grade II listed building is perfectly located for travellers wishing to explore the city centre. The Promenade, Montpellier district and main high street are all close by and free secure parking is provided by prior reservation.
Accommodation
Six self-contained suites are available to book in the boutique Strozzi Palace. Unlike standard hotels, there is no manned reception, so guests are given entry codes prior to their arrival and a duty manager is present should any issues arise. This and the low number of suites ensures Strozzi Palace will appeal to guests who value their privacy.
Each suite is spacious and fully furnished with stylish Italianate pieces, reflecting the building's architecture. All suites have a super king sized bed and are equipped with a kitchenette area that includes a microwave, a fridge, a sink, utensils, crockery and cutlery, a kettle, and a toaster. All have en-suite facilities, some have wet rooms and others have showers over baths. Some suites have entirely separate bedrooms and some have large skylights or private balconies.
Also included within the suites are comfortable seating areas, a large flat screen TV, an iron and ironing board and a hairdryer. Free Wi-Fi is provided.
Breakfast
Whilst there are no restaurant or bar facilities, a continental breakfast is included in the cost of the suite. Items will be placed in the fridge each day for the following day's breakfast and guests can choose to specify in advance the items they would like delivered using the hotel's comprehensive online booking system.
Important Note
Please note that children under the age of 12 years are not permitted to stay at the Strozzi Palace.
Map