Cowley, Cheltenham, GL53 9NL (
map
)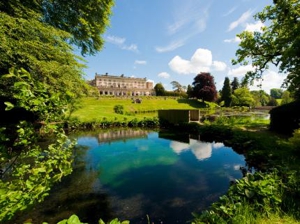 Hotel Facilities
Pet Friendly
Wi-Fi (Free)
Business Center
Air Conditioning (Some Rooms Only)
Parking (Free)
Restaurant & Bar
Room Service
Weddings/Private Hire
Gym
Swimming Pool
Spa Treatments & Services (Sauna & Steam Room)
Built around 1852, and once owned by James Horlick (founder of the Horlicks drinks company), Cowley Manor Hotel is a converted manor house set in extensive landscaped grounds. The hotel is approximately four miles southeast of central Cheltenham. The rolling green fields that surround Cowley Manor, the delightful gardens and the on-site spa make this hotel ideal for those looking for a quiet getaway.
Accommodation
The hotel is stylishly decorated throughout creating a relaxed and contemporary feel. 30 rooms are available with colourful furnishings, ranging from "Standard Rooms" to the "Best Room" (which, as you might have guessed) is meant to be the "best room" of the house. All rooms are equipped with a TV and Blu-Ray player, a Nespresso coffee machine, complimentary toiletries and beauty products, an iPod docking station and a mini-bar. Free Wi-Fi is available throughout the hotel. For that extra special stay, "Exceptional Rooms" have private sitting rooms, whilst the one and only "Best Room" boasts a four-poster bed and private terrace..
Restaurant & Bar
Breakfast is served in the on-site restaurant that also offers a dinner and Sunday lunch service, with contemporary British food on the menu. Alternatively, guests can order from the "All Day Menu" and enjoy their selections anywhere within the hotel. Options include sandwiches, light bites, larger mains, as well as a Champagne afternoon tea. There is also an on-site bar, which has a range of cocktails on offer.
Additional Facilities and Services
The C-Side spa is located within the hotel and has both a heated outdoor pool and an indoor pool. There are four treatment rooms, a gym, sauna and spa. The range of spa treatments offered, includes: massages, facials, wraps, manicures and pedicures.
Cowley Manor has the capability to host business and private events. A range of delegate and private hire packages are available that include accommodation and catering. Team building activities can also be arranged by hotel staff using local suppliers.
Lastly, the hotel has a dedicated wedding co-ordinator and some different wedding packages. The 12th century St. Marys church is conveniently located within the grounds of the hotel and the hotel itself makes an excellent backdrop for your special day.
Map