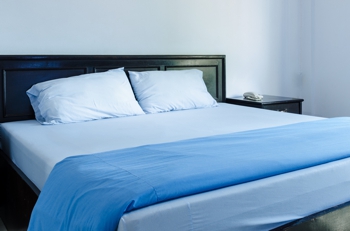 Let's face it, Cheltenham is a beautiful area and a popular one at that, so even the budget hotels can be on the pricier side. Many of the hotels listed below, which would not necessarily be considered a "budget" option, have been included here, as they may offer one or two rooms for a more reasonable price under £80. This is fairly "cheap" for Cheltenham.
If you are visiting Cheltenham during peak seasons, such as the period during the Cheltenham Festival or one of the other famous festivals involving food & drink, jazz, literature, music or science – prices are bound to be much higher given the high demand and amount of people trying to book. It is strongly advised, if not absolutely essential, that you book your rooms well in advance of these events. If you leave it too late, you'll end up having to stay well on the outskirts of town in neighbouring villages and towns.
Budget / Cheap Hotels in Cheltenham
There are plenty of options for budget / cheap hotel accommodation in Cheltenham. Despite their low prices, these hotels have a lot to offer with the majority including free Wi-Fi, parking or a complimentary breakfast each morning. There are also some non-hotel options, including rooms above a pub with the cheapest option including a campsite just on the outskirts of Cheltenham for those happy to pitch their own tents.
7-9 Portland St, Cheltenham, GL52 2NZ
A cross between a hotel and an apartment, the Central Hotel offers excellent value for money in the heart of Cheltenham. With room prices as low as £45 for a single and from £49 for a double, the price goes up incrementally depending on the amount of people staying. The rooms include a full sized fridge, a convection microwave oven, along with coffee and tea making facilities – perfect for any family staying in the area. While it may not have all the frills and bows, the hotel offers great prices along with free Wi-Fi and parking.
5 Pittville Lawn, Cheltenham, GL52 2BE
Cheltenham Lawn & Pittville Gallery offers good value for money for those travelling alone with single rooms starting as low as £45 a night. For rooms that sleep two, however, the price doubles. The hotel offers 4-star accommodation with free Wi-Fi, parking along the road and breakfast included with the price of the room. The hotel is centrally located in Cheltenham within a historic regency townhouse and even has an art gallery within the hotel.
Wellington St, Cheltenham, GL50 1XZ
Citrus Hotel Cheltenham by Compass Hospitality is an excellent budget hotel in Cheltenham Town Centre. The hotel offers single rooms and double rooms from £55, which also comes with a free breakfast. There is no restaurant at this hotel, but they offer discounts for up to 25% at local restaurants and have a bar with snacks that is open 24 hours a day. The hotel is pet friendly, but unfortunately, does not include free Wi-Fi or parking. The rooms provide standard budget accommodation, but also have in-room safes.
195 London Rd, Charlton Kings, Cheltenham, GL52 6HU
The London Inn is both a pub and a small budget hotel offering 8 rooms for as low as £40 for one person or £60 for two people. There is free Wi-Fi in public areas, free parking, breakfast included with the price of the room and food served in the pub with an outside seating area. There's nothing particularly fancy about the rooms, but they are comfortable and provide the basics in the quiet district of Charlton Kings.
Cirencester Road, Charlton Kings, Cheltenham, GL53 8EA
The beautiful DoubleTree by Hilton Cheltenham offers 4-star accommodation from £109 a night for two people. It is on the higher end of the "budget options", but we include it here as you definitely get your moneys worth with free Wi-Fi, free parking, breakfast and use of the hotel's wonderful facilities. These include a lovely restaurant and bar, as well as gym, swimming pool and spa facilities. You will not find better value for money in Cheltenham.
55 Saint George's Place, Cheltenham, GL50 3LA
Strozzi Palace Suites by Mansley is an Italian boutique hotel in Cheltenham's town centre near to the well-to-do shopping districts, such as the Montpellier District. The hotel features six luxury suites with kitchenettes for extremely reasonable rates – ideal for someone staying in Cheltenham for both a short or long stay. The hotel also grants their guests access to the local Fitness First and is within reach to many of Cheltenham's fashionable restaurants and shopping districts.