Imperial Square, Cheltenham, GL50 1QA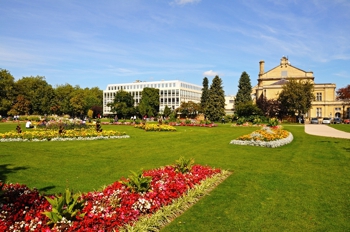 Cheltenham's Imperial Gardens were once part of the Imperial Spa that was built in 1818 on the site of what is now the Mercure Queen's Hotel. The Gardens formed part of the Spa's leisure facilities, providing guests with an exclusive ornamental area to walk in and enjoy. Surrounded by regency buildings, the park is one of Cheltenham's historic landmarks, and in the summer, it is host to many of the events that form part of the Cheltenham festivals.
Features
The park was extensively redeveloped after the Second World War, although it did retain much of its regency style. Visitors to the park can see over 25,000 bedding plants of various species, providing a bright and colourful display during the summer months, whilst the tree lined avenues create a tranquil place to take a stroll.
Cheltenham's famous son and composer, Gustav Holst, is honoured in the park with a full size bronze statue that sits on a plinth that is decorated with images of the planets of the solar system. This is, of course, in reference to his greatest work, The Planets.
The grand Cheltenham Town Hall, built at the start of the 20th century, is located at one end of the park. The Hall was built specifically to provide Cheltenham with a first class venue for all of its social events, and is host to various concerts, plays and exhibitions throughout the year. The Imperial Garden Bar operates from here and is open during the summer months, serving a range of hot and cold snacks and drinks.
Art In The Park
Each year during the summer, a 4-week open air art exhibition is held in the Imperial Gardens. The Art In The Park exhibition is open to local artists and gives them an opportunity to display their work to members of the public. Admission to the exhibition is free and visitors can buy artwork from the artists at a much lower price than what would be charged by a gallery. First taking place in 1969, the exhibition provides a large colourful display during the height of Cheltenham's festival season.
Getting There
The Imperial Gardens are within the Imperial Square, which is part of the town's one way ring road, and there is easy access from the M5 and A40 with signs directing drivers to the town centre. There are a number of car parks within walking distance, with the nearest being on Rodney Road and on Regent Street. Some on-street pay and display parking is available on Imperial Square and on the surrounding roads.
Cheltenham Spa Rail Station is approximately 1.5 miles away from the Imperial Gardens and there are regular bus services that can drop you off close to Imperial Square.
Opening Times and Cost
The park is open all day all year round and there is no charge for admission.