4 Clarence Road, Cheltenham, GL52 2AY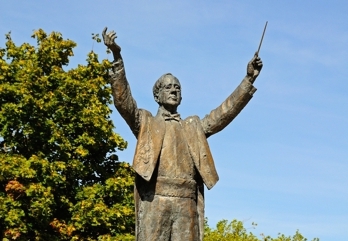 One hundred years have passed since Gustav Holst commenced work on his famous orchestral suite, The Planets. Since then, his beloved works have been performed thousands of times across the globe, have been used in film and television and have even been adapted into a rock concert for the modern audience. At 4 Clarence Road, Cheltenham, the Holst Victorian Trust gives visitors a chance to explore the birthplace and childhood home of this revered composer.
About Holst
Gustav Theodore Holst was born on the 21st of September in 1874 to parents Adolph von Holst and Clara Cox in the regency townhouse on Clarence Road in Cheltenham. The former residence of Holst where he learned to play the piano and create compositions is now home to a museum that documents his success as a composer.
Holst studied at the Royal College of Music in London and married a chorister, Isobel Harrison, with whom he had a daughter, named Imogen. Between 1914 and 1916 Holst worked on his most well known work, The Planets.
Museum Highlights
The Holst Victorian House is a fine example of a Victorian regency townhouse. Each room has been furnished to portray a typical middle-class house from this era. On the ground floor, visitors can view the piano that Holst used to compose The Planets, along with other personal items that belonged to him, including his armchair and music stand. The nursery is located on the top floor where there are a number of toys on display, as well as toys for young visitors to try out.
The basement kitchen gives visitors a fascinating insight into how meals were prepared and food was stored. At certain times of the year, cookery demonstrations take place here, using ingredients and methods from the Victorian era.
Other Museum Highlights Include:
Regular exhibitions throughout the year on themes relating to Holst and his works
Activities for children, including treasure hunts, trails and puzzles
Staff dressed in traditional Victorian attire who can provide detailed information on the various exhibits taking place
Dedicated children's activity days throughout the year with arts and crafts for children to create and take home
Getting There
The Holst Victorian House is located on Clarence Road in the centre of Cheltenham with close proximity to the high street. There is no parking on-site with the nearest car park being on North Place, which is approximately 3-minutes away on foot.
The museum is serviced by a bus stop on Clarence Road that is on a number of different routes. A regular bus service operates between the museum and Cheltenham Spa Rail Station, which is approximately 2-miles away.
Opening Times and Cost
The museum is typically open Friday and Saturday from 10am to 4pm. Do check in advance of your visit to ensure it will be open, as it will be closed for various holiday weekends throughout the year.
Adult tickets are £7, children aged 5-15 years are £2 and children under 5 years of age are free. Family tickets are available for £16 that grants access for two adults and three children.