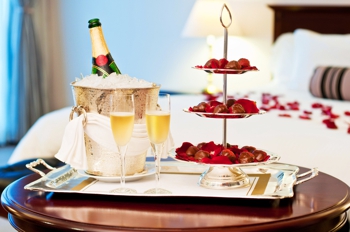 There are a plethora of options for those looking for luxury in and around the beautiful town of Cheltenham with two five-star hotels and ten four-star hotels on offer. The hotels vary greatly in character and charm, but all provide a luxury service and customer relations for its guests with a vast array of amenities available to tailor to the individual.
From gourmet restaurants led by top notch chefs (one of which who has even served the Queen herself!), trendy bars that serve up a range of delicious and inventive cocktails and health spas with treatment menus and spa packages – you'll find yourself very relaxed in any of these beautiful hotels. The room accommodation is also stellar with luxury amenities and toiletries included with most rooms. There are also a range of suites on offer for those staying for longer periods and would like that extra bit of space and comfort.
Below we provide a list of the 4 and 5 star rated hotels in Cheltenham for those who seek the finer things. Each as unique as the next, there is truly an option for everyone in the regency town of Cheltenham when it comes to luxury hotels.
Five Star Hotels
There are two wonderful options for those seeking five star luxury in the beautiful Cheltenham area. Both hotels are housed in historic buildings and provide well-appointed accommodation for those seeking a bit of indulgence. With all of the standard amenities and then some, guests will feel completely relaxed and at home at Ellenborough Park Hotel and Wyastone Hotel Cheltenham.
Four Star Hotels
For those seeking affordable luxury, look no further. Cheltenham has many beautiful 4-star hotels all providing an array of historic charm, boutique luxury and differing amenities without the supreme price tag. Many of these hotels also offer gourmet restaurants and room service, as well as tranquil health spas and gyms. While each hotel differs greatly in what it has to offer, as well as the overall character of the hotel, each 4-star hotel provides superb customer service and are excellent options for those staying in Cheltenham and want a bit of luxury.